" I met so many different people in the world of Salsa…You end up having a new circle of friends " – Alex Pace Interview Baila Productions Salsa Student
1. Four Latin Dances: Salsa, Merengue, Cha-Cha-Cha and Bachata
2. Registration with or without partner
3. Always Two teachers per class
4. The best Balanced ratio of men/women in the business
5. Events, shows and practices
Or Call 450-238-1435
Baila Productions Vaudreuil-Soulanges Salsa School : 450-238-1435
Chalet Peter-Williamson (Parc Aumais)
300 rue Cypihot
Sainte-Anne-de-Bellevue, (Québec), H9X 4A7
Direction

Register now
Ste-Anne-de-Bellevue group lessons rate
One session 10 lessons of 1h 152.21+tx=175
Highly concentrated fun guaranteed !
If for any reason you are not fully satisfied, we will gladly refund you the remaining classes.
Our latest addition, the Vaudreuil-Soulanges Salsa School made it's debut at the end of 2013.
For all those living in the regions of Vaudreuil, Ile-Perrot and Pincourt, Baila Productions newest Dance Studio is now at your doorstep.
In our Ste-anne-de-Bellevue studio you will learn latin dances in a fun and relaxed environment. With or without partner, we offer Salsa, Merengue, Cha-Cha-Cha and bachata classes. Come and learn Salsa at the Ste-Anne-de-Bellevue latin dance school. Reserve a spot today!
Baila Productions Vaudreuil-Soulanges Salsa Dance School  450-238-1435
Next Beginner Salsa Session in Ste-Anne-de-Bellevue Begins January 7th – sign up now ! Places are limited.
*this schedule is subject to change
Schedule
Beginner
Tuesday: 7pm – 8pm
Inter 1 
Tuesday: 8pm – 9pm
Inter 2
Monday: 8pm – 9pm
Advanced 1
Monday: 9pm – 10pm
Advanced 2
Tuesday: 9pm – 10pm
Summary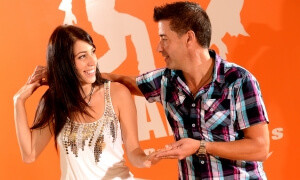 Service Type
Salsa Classes - Latin Dance
Provider Name
Baila Productions Salsa School Vaudreuil-Soulanges
,
300 rue Cypihot
,
Sainte-Anne-de-Bellevue
,
Quebec
-
H9X 4A7
,
Telephone No.450-238-1435
Area
Description
Learn Salsa, with or without partner, in only a couple of weeks. In our Ste-Anne de Bellevue Salsa dance schools, Salsa dancing taught in such simple terms you will understand instantly!!! Our dance school offers classes specialized in Salsa, Merengue, ChaChaCha and Bachata. We believe that dancing must be learned first and foremost in a joyful environment!