"I met so many different people in the world of Salsa…You end up having a new circle of friends " – Alex Pace Interview Baila Productions Salsa Student
1. Four Latin Dances: Salsa, Merengue, Cha-Cha-Cha and Bachata
2. Registration with or without partner
3. Always Two teachers per class
4. The best Balanced ratio of men/women in the business
5. Events, shows and practices
Or by phone 450-238-1435
Baila Productions West-Island Salsa School 450-238-1435
Gérald-Godin College 15615 Boul Gouin O, Sainte-Geneviève, QC H9H 5K8
Direction
West-Island group lessons rate
One session 10 lessons of 1h 143.50+tx = 164.99
Highly concentrated fun garanteed !
If for any reason you are not fully satisfied, we will gladly refund you the remaining classes.
2004 was the year Baila Productions opened it's 1st Salsa Dance School, one of the nicest studios in the area of Montreal.
Baila Productions has more than 350 students per week, more than 20 courses and 12 instructors who give 110% of themselves, offering the best courses and services in our field.
In our West-Island studio you will learn Latin dances in a fun and relaxed environment. With or without partner, we offer Salsa, Merengue, Cha-Cha-Cha and bachata classes. Reserve a spot today!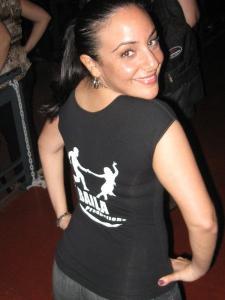 By phone
450-238-1435
On Line
Next Beginner Session in West-Island Studio Begins Monday March 26th – sign up now ! Places are limited.
*this schedule is subject to change
Regular Schedule

Beginner
Monday: 7pm – 8pm
Inter
Monday: 8pm – 9pm
Advanced
Monday : 9pm – 10pm