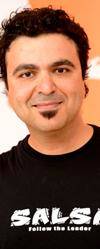 I discovered Salsa when a friend of mine brought me to a club. I was very anxious but right away, I fell in love with the music, the rhythms and this dance. Following that evening, I started taking salsa lessons. It was a revelation for me. The love that I felt and still feel for this latin dance made me stand out. Quickly, I joined the Montecristo dance troupe in Montreal and started to teach. At a steady pace, I refined my teaching and dancing techniques.
After a couple of years, I graduated in Psychoeducation and left Montreal to go to Asia. I spent 2 years exploring this continent that haunted my childhood imagination. During my trip, I founded the Baila Latin Dance Studio in Taiwan. After a few months, more than a hundred students were attending classes… I have to say that they are many people living in Taiwan! Nonetheless, I was very surprised by the taiwanese interest for Salsa. At the beginning, it was fairly tricky to communicate because of language and cultural barriers but the dance itself helped bridge this communication gap. During that time, I gave multiple salsa workshops, choreographed shows and had the opportunity to associate myself with many dancers that had international careers.
Finally, I came back to Montreal, my home town, to continue to promote and teach my first love in this domain: Salsa. Currently, I'm interested in many styles of dances and the pleasure I feel doing it drives me further to express my own style!!!
Mambo Retro:
http://youtu.be/8QLokrjl6h4
Afro Salsa:
http://youtu.be/cBvwJB-D_Vw
DVD danses latines pour débutant:
http://youtu.be/WHidz_Hy1Tw

Quebec Salsa Congress:
http://youtu.be/vmo-o6qGtFQ
TV Spot:
http://youtu.be/5GQVaE3Ig9g
Event entertainment:
http://youtu.be/GA1AZDtuH5o
Freestyle:
http://youtu.be/oSCN2gq_AKc
http://youtu.be/WoUCypcASxw
http://youtu.be/OinFH_FfiOU
Choreographer
2006 http://youtu.be/UGzeQE0Agq0
Disco Salsa http://youtu.be/-BZbz-cJ3bQ
Michael bublé http://youtu.be/F5rdrtzznIg
Salsa + Casse-noisette http://youtu.be/mK0PBUxHJoY
Salsa + Bollywood http://youtu.be/xkxij40O4us
Just for fun
How to dry hair using Salsa dancing
http://youtu.be/qfhqiqK1Uek
More than 14 years of experience in teaching and performing Salsa
2013
Musicality Workshop and Dance Troup performance at Fiesta Carnaval à Québec
2012
Musicality Workshop at Madessimo Madness (Bromont Salsa Congress)
Produced theDiverDanse event
Coordinated the Salsa Mommy Class for la Galère Radio Canada
Training in New York with Baila Society, Franklin Diaz, Salomon…
Raised 720$ for MJG (Fibrose Kystique)
Troup performance at Salsa Fair Gatineau, H4L, Canada Salsa Congress and Bromont Salsa Congress (Madessimo Madness)
Musicality Workshop Fiesta Carnaval Québec
Salsablog.ca creation
Free performance for Weekend to endcancer funraiser
2011
Taught a music workshop at Madessimo Madness Granby
Performed at Salsa Fair Gatineau
Performed Fiesta Carnaval Quebec
Taught Body Isolations workshop Fiesta Carnaval Quebec
2010
Gave a Latin Dance conference at Gabrielle Roy Library
Performed at Festival de Salsa de Québec
Performed at Montreal Salsa Convention
Taught a workshop at Fiesta Carnaval Quebec
Participated and taught a workshop at the Faith and Light fundraiser
Taught a latin dance class at Polyvalente des Sources
Performed at Gala Espéranza
Performed for the Canadian Cancer Society West-Island Relay for Life
Completed ladystyling training in Boston – Project Styling Masacote
2009
Performed at GrooveTown X-Mas Party
Performed at Gala Espéranza at l'École Internationale de Laval
Performed at Tennis 13 – "Et Si On Dansait" evening
Performed for Ste-Justine Hospital fundraiser
2008
Lifts and dips Workshops at Festival de Salsa à Québec
Performance Montreal Salsa Convention
2007
Salsa Glam New Year Eve Performance, Delta Montreal
2006
3rd place at the Extreme Salsa Competition Metropolis
Choregraphed SalsaOnClave dance troupe for the Montreal Salsa convention
Performances at Salsatheque, Metropolis, la Station Longueuil, Moka Danse, Arthur Murray's Event 'danser pour la non-violence', Sambuca Granby
2005
Gave Salsa workshops in Casablanca Morocco
3rd place professional Salsa competition Salsatheque
Co-Choregraphed SalsaOnClave dance troupe for the Salsa X show
Salsa dance teacher at SalsaOnClave.com school
2004
Founded Baila Dance Studio in West-Island, Montreal Canada
2003
Taught Multiple workshops in Taipei and Taichung Taiwan
2002
Latin Dance Show for the President of Taiwan
2001
Founded the Baila Dance Studio in Kaohsuing,Taiwan
Psychoeducation B.A.
2000
Teacher at the Montecristo Dance Studio, Montreal, Canada
Dancer in the Montecristo Dance Troupe
1998