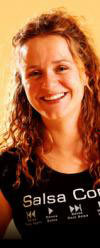 At the early age of 4, I made my first steps in Folk dancing and Jig. Already, I was crazy about dancing. Afterward, I took on Ballet Jazz and Classical Ballet classes in my hometown community center. It gave me the ambition to join a dance school, to push myself to new limits and eventually perform with a troop.
From 1986 to 1998, I refined my Jazz and Modern dancing skills, but I also flirted with Hip Hop. During that time, I also taught, dancing to kids. Following my fondness for dancing, in 2001, I discovered Salsa, which, since then, as never left my life.
First and foremost, I dance for fun, but I also find it important to constantly improve myself. In that sense, I travel to New-York every year to learn from the best teachers and to partake in conventions. Presently, I'm a member of the Salsa On Clave Dance Troop. Dancing is a way to express myself: when I hit the dance floor time literary stops, you forget about all the little worries of life.
Viky Freestyle
http://youtu.be/VDx0xRWxmy8
http://youtu.be/_NBhNakJ-IY
Here's a little list of some of the shows in which I performed:
2008
Performance at the dream #3 adsdream.com
Performance at "Vendredis Show de St-Adèle"
2007-2008 
Animation and Performance at Lululemon Fairview Pointe-Claire
2006
Montreal's Salsa convention
1996
Laval city's honorary award
L'Oréal's product launch
1995-1997
Laval city's grant holder show
1995
1993
telethon Opération enfants soleil
1992 – 
Montreal 350th anniversary's parade
1991-1992
1986 to 1998
some festivities including le festival montréalais de la danse. Also open air shows at the centre de la nature de Laval